Creative, BOLD and empowering floral artist, designer and mentor
inspiring brands and individuals to identify their signature look which captures their identity.
You CAN do it too
Through the joy of experimentation and techniques, I can teach you the skills to create commercially, nurture your niche, hone your hand but also expand your repertoire which will guide your artwork to the next level. This will get you noticed for YOUR style to land your ideal clients, but also enable you to max out your sales to increase your revenue.
Creative, BOLD and empowering floral artist, designer and mentor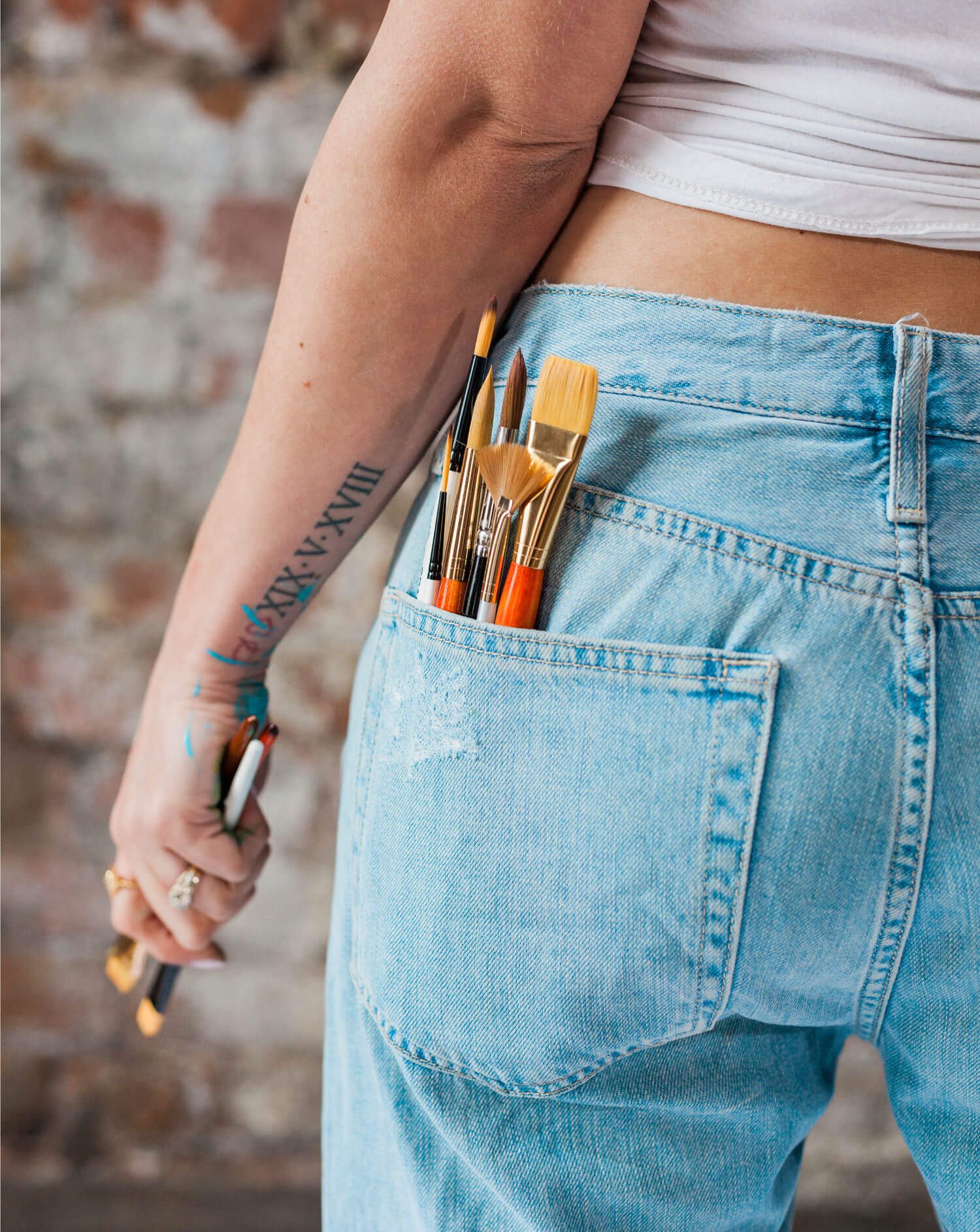 I have multiple commission based clients which makes my work varied and fresh. When it comes to agent work, I art direct myself, meaning I have my niche, but also create a diverse collection that appeals to more buyers and I also have a library of licensing designs too. That's multiple income streams and semi passive income streams.
How?? By painting flowers. 'Whhaaaattt?' I hear you say.
So, Why flowers?
Trends come and go, from tie dye to kaleidoscope but what's always there to tell the tale… florals. Why go after the 20% when you could be appealing to the 80%... No brainer right?
Flowers are pretty, of course they are the most popular pattern, especially when women are the predominant consumer for textiles, home and fashion.
Let me make something really clear for you…
That whole 'starving artist' mumbo-jumbo is just that… of course you can make money following your passion.
Your destiny isn't set out by life's tick list and with enough passion and drive you are unstoppable!
My purpose in life is to create and inspire. I've known my entire life that I was born to create. With a passion for fine art and design, printed and patterned textiles was a great fit, but it was through painting flowers that I found the perfect match.
A tutor once told me; "If you can paint flowers, you will always have a job in the textiles industry". And it was this piece of advice that I share with my clients everyday! Because there are thousands of varieties of flowers in the world and countless ways to do it. It's about finding your way to do the thing you love.
I have walked your walk. From playful marks to unsuccessful experiments, I know the process, but believe me, it all pays off! I tell my students to "practise, make a mess and absorb the lessons from each disaster". This is hard to embrace at first… but there is a world of opportunities when you do.
I'm going to go AGAINST the grain and say it's not ALL about niching!
Throughout my years in the industry I have seen the benefits of honing my style and creating that signature look which has solidified some major clients. But as artists we are ever developing and allowing myself to do this has created a plethora of techniques, styles and multi-disciplinary answers, which has made my business boom. Why confine your creativity?
As an educated and experienced designer with over a decade of industry experience and a vast client base including many well known Highstreet brands and even some runway leaders, I know a thing or two about print design. I know how it all works, what stands out and how to predict and decipher what's 'trending'. Trends aren't always new… it's often the new old, which is why keeping it traditional, learning the core techniques and developing a strong foundation has enabled my business to thrive, and so could yours.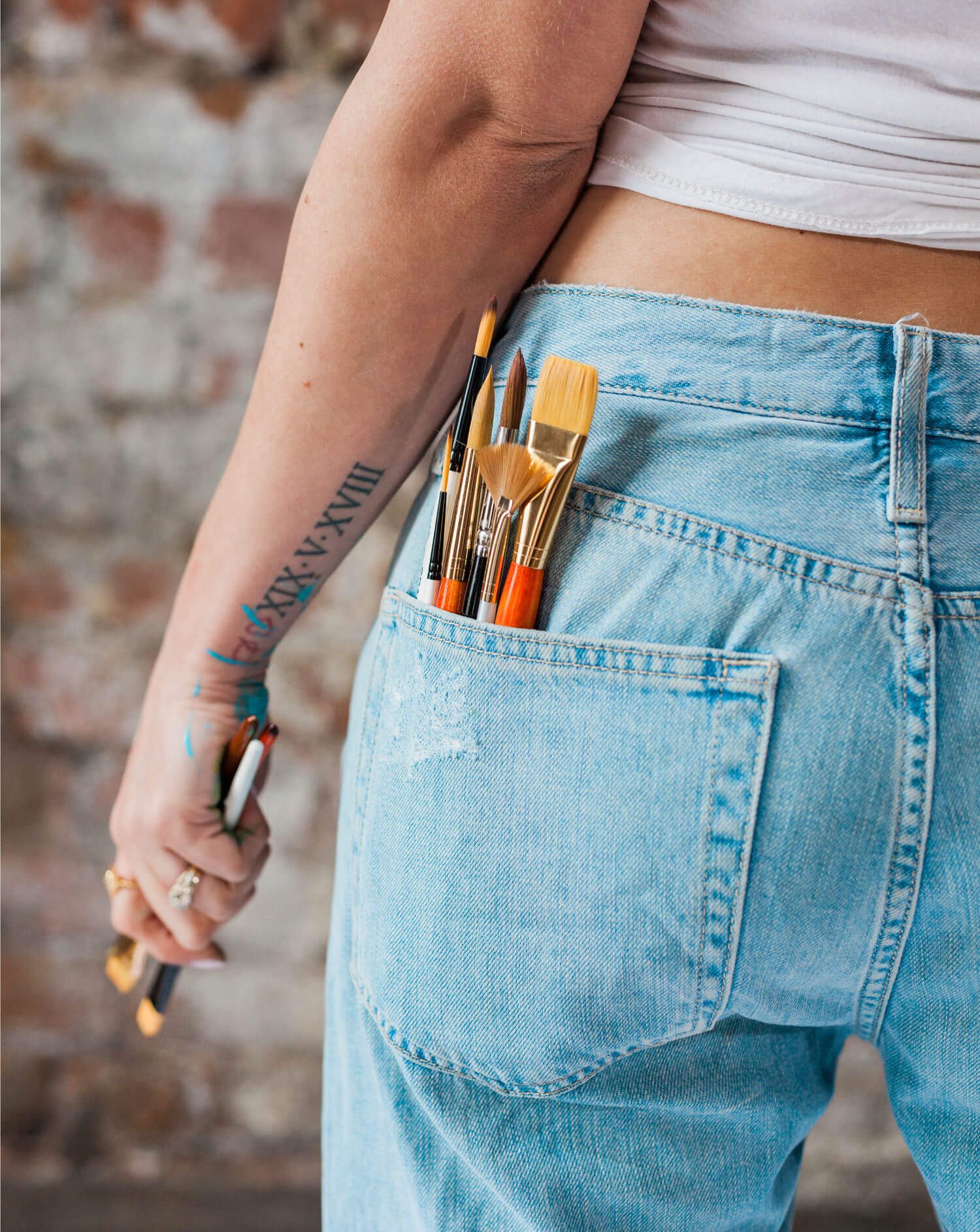 Listen Up!
If you can say Hell yes, that's me, sure thing or Darn Tooten; to any of the below then I have something that can help you.
• You're wanting to learn the techniques I use when creating my floral artworks
• You have an art background and would love to make it a career but don't know how to convert your talent into a lucrative business
• You're wanting to discover your handwriting and boast a niche that sets you apart from other designers and artists
• You don't have thorough insight of the textiles industry to produce commercially saleable work
• You work in a creative field but would like to move into the textiles industry as another aspect to your creative career
• You have great art skills but unsure how to convert artwork into a printed pattern
• You're a complete novice but fuelled by raw talent and would love to have your dream job
• You paint for fun and freedom but would love to improve your skills
Well what are you waiting for... Check our my killer courses below
The Course
ENROLLING NOW
Are you creating more muddy puddles that spontaneous bleeds?
Dive deep into the realm of watercolour florals in this 8 module series.
The Bootcamp takes you through all the techniques and methods of watercolour and how you use it in florals so you can take charge of the variables and start creating intentional marks and controlled bleeds. This jam packed program with over 16 tutorial videos alongside all the techniques and brushwork that will get you there.
If you are wanting to start creating watercolour florals that are recognisable, eye catching and gushingly glorious no matter how loose they are then this once's for you. It provides a tool belt of techniques, the instruction manual, and from it you will be left with a plethora of ideas that will stretch your imagination, your watercolour skill set, and allow you to paint watercolour florals in a multitude of ways.
ENROLLING NOW!!
More than just a course... this is a 6-month mentoring program.
I was once told 'if you can paint flowers you will always have a job in the textiles industry'. Well, after over a decade in the industry designing florals, I guess he was right. With such a diverse target market florals are the most popular print design, so you would be mad to not want a piece of this pie.
But it's not just about learning to paint individual flowers, composition is everything.
This is an in-depth course delivered over 6 months through 14 Modules that teaches you to create target-marketed floral designs in successful compositions. After all, flowers are living and growing things, they need to be composed that way.
Learn the rules in my 7-step composition strategy then how to break the rules by stylising, how to create a group of designs to maximise trend and research, and finally how to design in different layouts.
This is a jam-packed course that will provide all the tools you need to start designing florals with success today!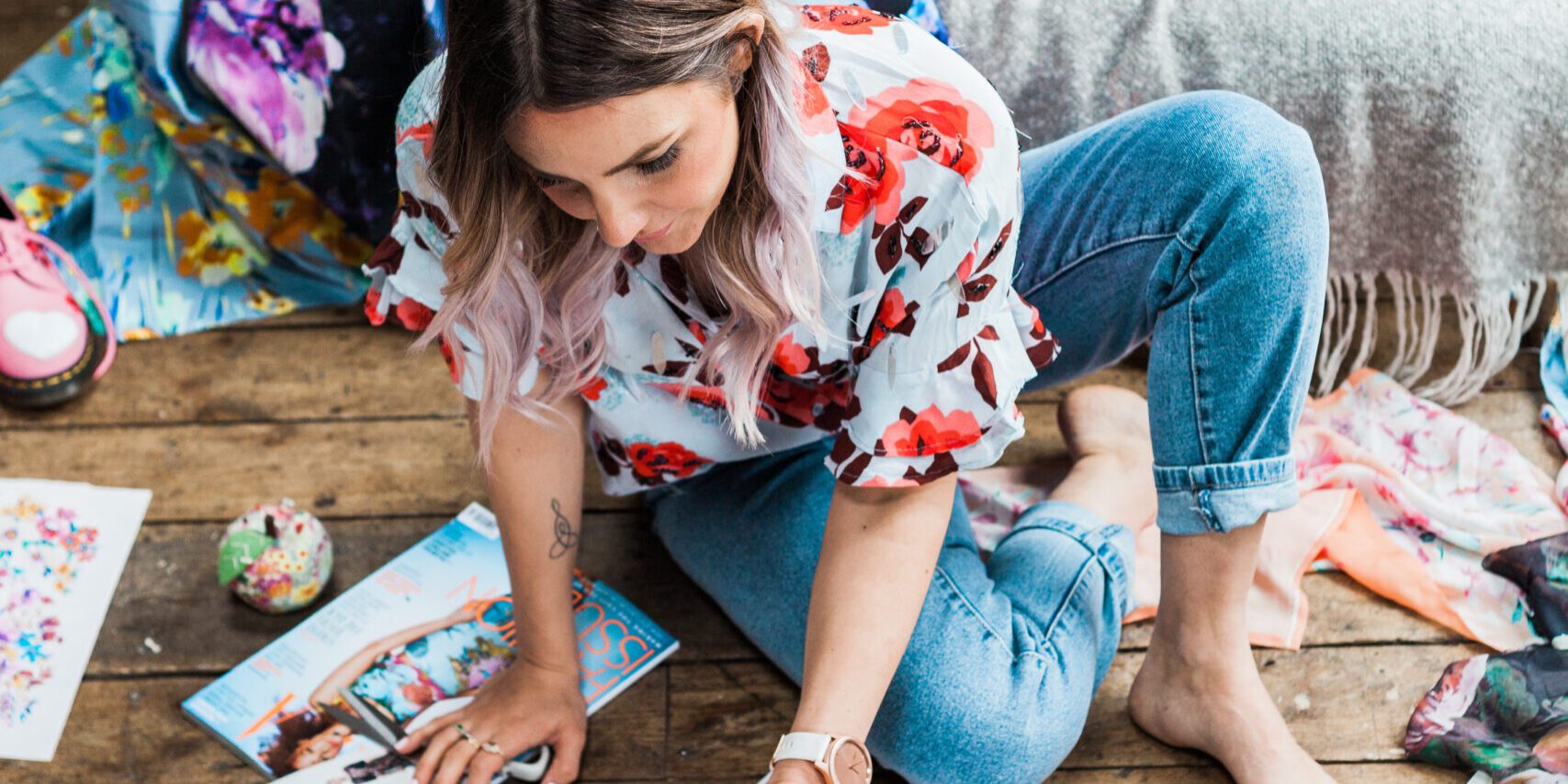 The Membership
The In-house Creative provides a private creative hub for designers and artists to learn and experiment. This is also an inspiring space that removes the noise and allows you to just "do", so you can focus on unleashing your ultimate creative power and in turn create a more lucrative business. Inspire and be inspired whilst connecting with a like-minded community as you confidently step out of your comfort zone and start diversifying your skill set.