Floral Artist & Designer helping brands to define their style, make their statement & make their mark through prints & patterns
The purpose of my design journey is to create artwork with the brand at the forefront and the customer at it's heart, resulting in target marketed designs that both speaks to your ideal customer but shouts YOUR brand!
Through this process you can start creating collections that amplifies your brand from first glance. There is no such thing as competition when you find your own twist.
So let's START making martini's together!
All my ready to buy prints are designed with different target markets in mind to allow a library of varied designs, but if you want to push your brand to the next level get in touch for a bespoke collection that will elevate your brand.
So who am i?
I'm a country girl from the South West of England who was always found with a pencil in hand, illustrating, drawing, doodling… always a creative cog turning. To be honest I've tried it all, from ceramics to sculpture, garment making to graphic design, but it was always print design that I came back to.
A tutor once told me that "if you can paint a flower you'll always have a job in the textiles industry"...
…and he wasn't wrong. Florals are the most worn print because they're so diverse, A floral can answer to different ages, different seasons, different genders, whilst also speaking a multitude of trend languages from boho to ethnic and abstract to realistic the options really are endless.
After completing my degree in Textiles and Surface Design in 2010 I have spent the last decade working for brands creating prints (predominantly florals) that sit harmoniously with their collections. My work has been seen in many high-street shops like ASOS, Miss Selfridge, M&S, Very, Anthropology etc but I have also worked with smaller indie brands to help create collections too. My vast industry knowledge and experience has enabled me to build up an international client base by developing my hand for different markets. This allows me to really get my teeth stuck into unique brand identity whilst also showcasing my signature style. I love experimenting, building on ideas and broadening my "idea library" so I can create new and fresh ideas for my clients.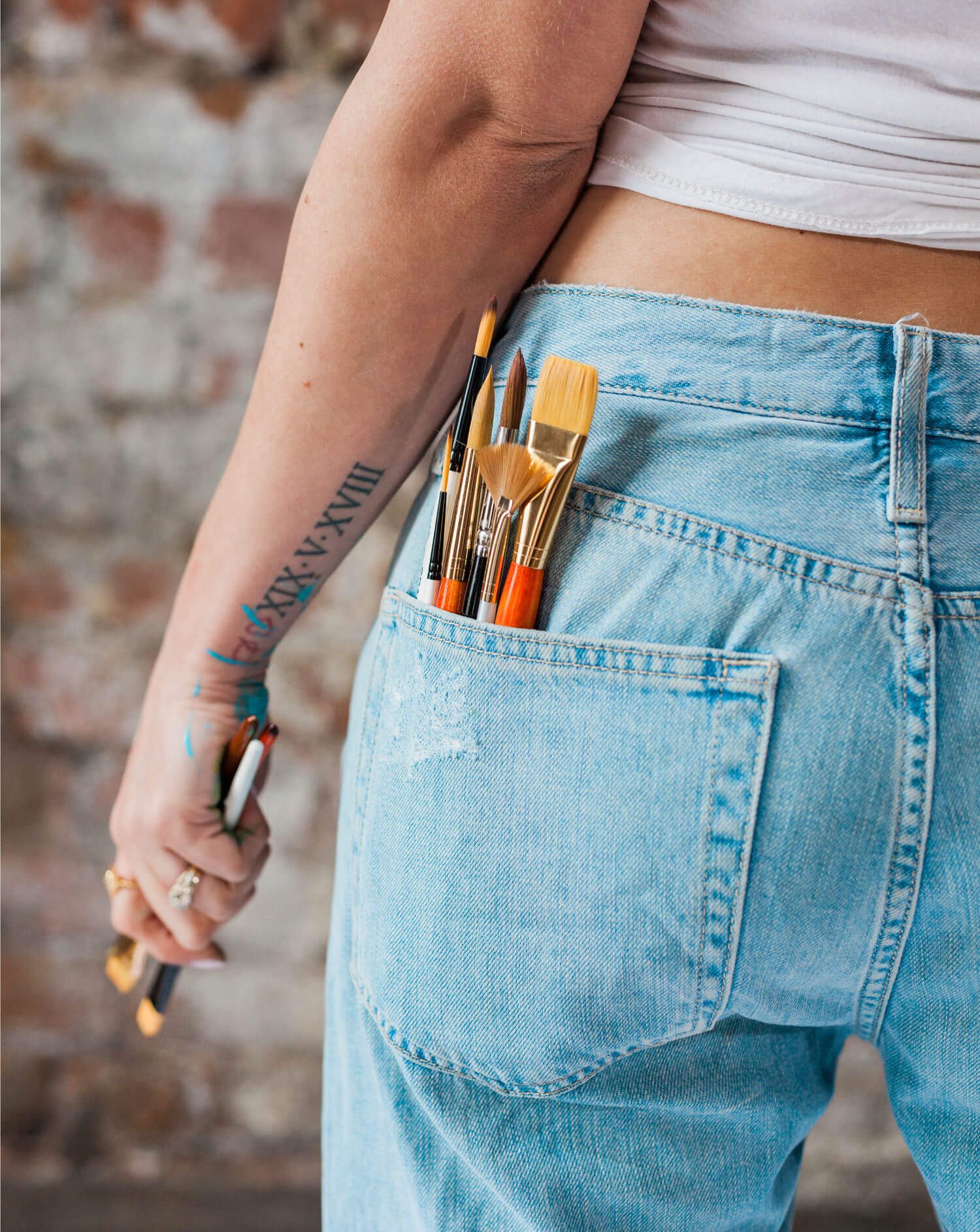 This brings me to you
It can be scary trusting someone new. Your brand is a piece of you, but what you create, (your products) need to become a piece of your customer. My Ultimate goal is to help you serve your customers needs.
I design with the intention that when your customer puts on your clothing, shakes out your bedsheets, or eats from your dinnerware (whatever it may be) your product is creating a transformation. Either a new persona of themselves, an expression of who they are as a person, or the confidence for them to show up as 100% them.
Together we can help them showcase who they are with style and confidence.
When I design I position myself on the same level as the consumer, not the branding not the designer. Like I've said, it's not about creating pretty patterns… Ok, it is a little bit, but it's about creating the right pretty patterns. Ones that speak to your ideal customer, with a twist of YOU and a shake or two of me. (martini analogy popped up again).
I believe that it's only when you can get into the same head space of the person wearing your prints that you can help them achieve their desired outcome.
THIS is why a bespoke collection works so much better and converts so much higher than buying off the rail prints.
All my ready to buy prints are designed with different target markets in mind to allow a library of varied designs, but if you want to push your brand to the next level get in touch for a bespoke collection that will elevate your brand.
A LITTLE MORE ABOUT ME...
When I'm not designing prints, creating floral artworks or helping my mentoring clients achieve their goals, you'll find me hanging out with my husband Lee, and playing with our 2 year old daughter Althea; who mostly enjoys making up dances, singing, jumping on the bed, putting on my lipstick, back massages and painting. (I guess it's true the apple really doesn't fall far from the tree, eh?!)
Creativity is my superpower
I'm a huge believer in community over competition. My creativity is my superpower so I share it with the world to empower others to discover theirs. Art has been my saviour. Through teaching others the art of painting and creating patterns that make others feel supercharged, in one way or another, it is now the saviour for someone else too. In a world full of chaos, create!
As a pattern clashing, colour loving, bold and bright, floral fanatic my goal is to floral peoples lives. From creating killer collections for kick ass brands to hosting holistic paint retreats I want to encourage pattern, colour and creation in peoples lives to help others live a life they love, however that looks to them.