With watercolour the possibilities are ENDLESS
Whether it's ethereal serenity, bold and bright fluidity, or deep and detailed reality… painting blooms in watercolour is a combination like no other.
But there's a fine line between the unpredictable and the out of control.
you're scrolling and SAVING other people's artwork, but struggling to get the RESULTS yourself?
the reason…
With watercolour, there are so many things that come into play that can turn those beautiful bleeds into a mass of medium with no recognisable flower in sight... more muddy puddles than spontaneous bleeds.
Or perhaps you have a combination of static overworked shapes instead of spontaneous fluid marks.
Believe me, you're not alone. The truth is, so many artists start off that way… painting 'blobby' flowers again and again, not quite knowing what to add. It's that pressure to churn and go through the motions instead of stepping back, getting clarity and learning the correct ways.
Painting flowers is tricky at the best of times, but painting in watercolour brings a whole new set of problems solving to dive into.
It's ALL VERY WELL knowing your
final destination
but you NEED to know
the directions that will GET YOU THERE
The beautiful thing about florals in watercolour is having the ability to create florals that look organic but remain loose. To have that anchoring part, that depth that draws the eye in all the right places but still looks suggestive.
I like to call this
"capturing the essence of the flower"
instead of painting a perfect depiction.
It's TIME to invest in you
What if I told you that I have CREATED the floral watercolour bible that will teach you all of these techniques
Techniques that you can learn, adapt and make your own and create artwork that checks all the boxes.
Time is precious, no one has time to waste.
So having a place with all the lessons alongside a group of creatives for support and inspiration and me to turn to guidance instead of experimenting blind, is going to completely change the game.
I have built an extremely successful business solely based on painting flowers. I know, I have to pinch myself daily, lucky me!
BEING yourself, finding YOUR style and developing YOUR niche doesn't mean PIGEON HOLING!
I design many different florals, with a variety of mediums. From ditsies to large scale blooms, loose suggestions to detailed specifics, the chunky, the bleeding, the wet, the dry and all the in-between.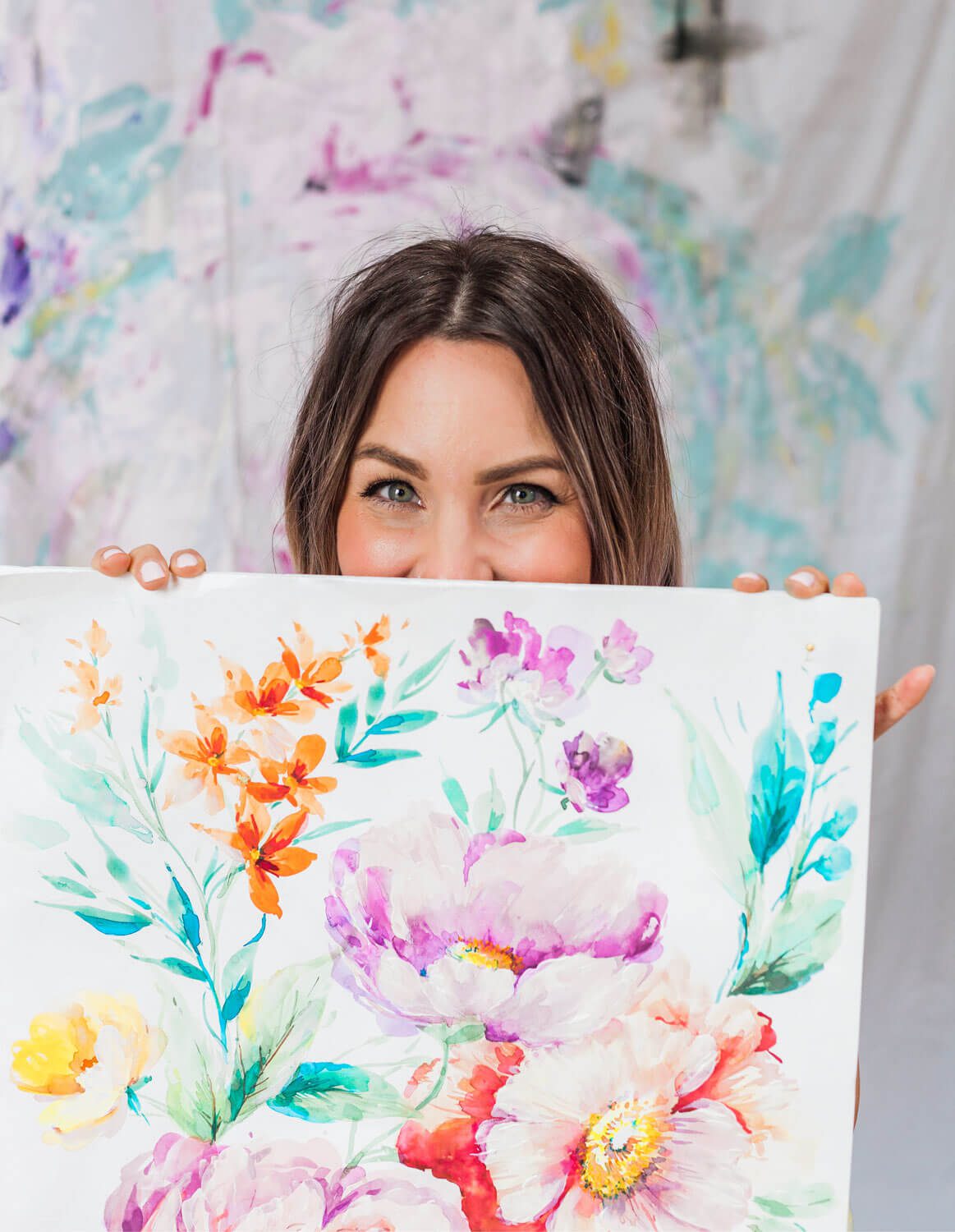 This MULTI-DISCIPLINARY mindset is what has allowed me to GROW a design business that OOZES Natasha Gulliford...
but also brings different things to the table.
I think it's so important to test, experiment and develop. We are forever learning and growing that's what separates the ARTISTS from the WANNABEES.
Let me ASK you
• Do you want to paint in watercolours but don't know your flooding from your feathering?
• Are you a passionate creative who would like to develop a different skill to add to your creative library?
• Are you tentatively painting worried that the next brush mark might be mess instead of magic?
This is a DEEP DIVE into watercolour techniques and how you can use them to CREATE a variety of looks in your florals.
The course is perfect for all levels as it is a step by step guide into each technique alongside exercises to get you implementing. You will get the pre-recorded tutorial videos and the workbooks PLUS I'll be with you every step of the way to see what you're getting up to in the private course community full of past and present watercolour bootcampers. That peer support from others that are passionate about painting florals too is second to none.
Start creating BOLD, soft, energetic, and ethereal florals in a variety of ways inside the bootcamp NOW.
inspiring brands and individuals to identify their signature look which captures their identity.
8 LIVE Zoom Q&A sessions with me to make sure you stay on track, break down the roadblocks and keep you confidently creating instead of spiraling down the wrong rabbit hole.
These sessions alone are worth the price of the course. So jump in head first. 
Through 29 video lessons I break down EVERYTHING you need to know about watercolour florals so you can be your own FLORAL MASTER.
Module 1
WET ON WET
I explain the techniques of wet on wet and how to use it in an ethereal style and a bold, loose and lively style.
Module 2
WET ON DRY
Here we dive into the wet on dry technique… building, layering and dry brushing.
Module 3
FLOODING
This one's everything flooding…using water to control your pigment but still keeping in loose and lively.
Module 4
NEGATIVE SPACE
Let's face it painting in watercolour is all about negative space. where to paint, when to paint but most importantly…what NOT to paint. Here we dive deep into negative space in your florals, inverse painting and using masking fluid.
Module 5
ADDED EXTRAS
This module is all about using unpredictable mediums, those 'added extras' that add surprise results in unconventional ways.
Module 6
THE ESSENCE OF A FLOWER
Petals petals petals… but how d you paint them all. The secret is YOU DON'T! Here I explain the paintbrush techniques to use and those integral parts to paint to capture the essence of the flower.
Module 7
FOLIAGE
Let's face it a floral isn't a floral without some foliage. The details, the techniques and the shapes.
Module 8
KEEPING IT REAL
With all those techniques under your belt, this module is all about painting individual petals for that more realistic botanical look.
PLUS feedback, questions = answered, and 8 weeks of interactive 'Natasha Time.'
Because learning a creative practice isn't about "painting along". It's about knowing the reasons why, learning how, and then understanding how to implement it in your own practices.
And when the puzzle pieces don't fit together, you need someone to turn to for advice.
That's what these sessions are.
This is definitly a course that I will BENEFIT from for years to come
and it has helped to build my confidence and improve my technique when painting florals. Natasha said at the beginning of the course that investing in you is not a risk, and I 100% agree.
Angharad Steele
The course has enabled me to secure a design placement at a MAJOR company.
There's no denying florals are tricky…You just have to trust the process!
The flexibility of recordings and videos made this possible. So don't use the "I just don't have time" excuse if that's the only reason stopping you from this course.
Hollie Harrison
"There's so much encouragement
and it's an environment where most of us are learning new skills – that is exactly what you need. We are from different backgrounds and skill sets, but that definitely adds to the experience."
Julie Gould
"It also broadened my understanding
of the whole commercial design process from market research to successful compositions and different layouts.
Emma Wilson
I was completely BLOWN away by ALL the things I learned
and all the areas I realised was going wrong. I can honestly say, it's been the best course I've ever done. Now my confidence is boosted, I'm more focused and I'm producing designs more quickly. I can't thank Natasha enough!
Sarah hemmings
"I have been designing pattern and print for many years
but florals weren't my speciality, I thought lockdown was a good time to brush up on these skills. I was happy to draw and paint tight florals but I really wanted to loosen up my hand and become more expressive – practise and Natasha's demos and tips have really helped me do this
Rosalind holmes
"Taking your class has really helped me to develop
my own personal signature style. I really enjoy painting feminine and romantic motifs. Learning the painting techniques from your class has given me the confidence to create the artwork that I want. Each week of exercises helps me to build my skills slowly, and feel more confident to paint better and make me want to learn more
Cindy chan
"Natasha gives a 100%to her clients
and has extensive knowledge of the industry, through completing the course I have learned so much, I would highly recommend Natasha's course it is an amazing investment into your professional design career goals!
Tracy Guglia
"My hand-painting skills have improved over the course
through learning a range of new techniques, floral styles, experimenting with different media and now being much more confident in painting my own compositions, having learnt Natasha's floral strategy which has made my florals more sophisticated
Jess cooper
"Natasha's course has been a game changer for me.
I've noticed such an improvement in my painting and design style, I can now paint a lot more realistically but still in a way that is loose and individual to me."
Juli McKinley
My purpose in life is to create and inspire. I've known my entire life that I was born to create. With a passion for fine art and design, I finally found flower painting which has become my perfect in-between.
I have a huge bias for art created with your hands.  The unpredictable mark and the uncontrolled beauty of it and. I truly believe it is this which has enabled me to have such a fruitful career all with the power of painterly florals.
I don't believe that we were born for one style. As artists and creatives, we should always be looking for questions that need answering. Experimentation and trying new mediums is that for me... and watercolours is one of those mediums that keeps on giving.